As a writer, you try to listen to what others aren't saying…. And write about the silence" – N.R. Hart.
Writing can be seen as a mysterious task for any student, especially if they are writing any fiction writing. So if you think that you are not standing anywhere; therefore, it may require some effort to convince yourself that you can do something in your writing. To be very honest, pursue your career in writing might not be a difficult task for you, but winning the Booker Prize and becoming a best-selling novelist can be an uphill task for you.
In this blog, we do not merely let you know about how to become a writer but also help you to know the reason why it is important to grow your writing skills. So let's check all the information on how to become a writer.
Steps on How to Become a Writer:
We have mentioned some of the steps by which you can become a good writer, and also these steps may help you to develop your career as an online writer too. So these steps are as follows:
Become a Good Reader:
" Reading is like breathing in; writing is like breathing out" – Pam Allyn.
You have seen that there are a lot of writers who have fond of reading. The reason for this might be that this helps them to write quality content, and by this, they are able to understand readers' points of view. Reading other's writing helps you to adopt certain writing styles as well as ideas which you can use for your writings.
There are some resources by which you can be a good reader. These are:
Local library: Any library can be a treasure for any reader. A library has several books that are accessible free, and some of the libraries have audio resources; therefore, you can utilize them for your writings.
Ebooks: There are a lot of books that are available online, so you can check them and read them from anywhere and anytime. Also, there are a lot of online writers who provide their writings online.
Other resources like magazines, newspapers, and much more: You can also read any magazine, newspaper, and any other resources, it helps you to understand so of the social topics or general issues that are currently standing in the news. After reading them, you can write this kind of writings too.
Discover Your Writing Type:
"A simple [writing] style is the result of very hard work" – William Zinsser.
Each writer has their writing style, and it may depend on what they love to write or what they think that they can explain their ideas, such as some of the writer loves to write a romantic novel, and others might love to write science-fiction writing.
So the first thing that you have to keep in mind is that you must know your writing genre. When you know this, and you can start writing for small brands or small businesses. You can also pursue your writing career as an online writer in the following departments:
Parenting.
Education.
Health and wellness.
Find some genre or niche topics that you know some of the key points about, or you want to learn about any topic. Do not try to copy your friend's niche or someone's niche, whom you know personally. It is your writing style; therefore, it might be dissimilar to other writers.
Start Writing Blogs:
" Blogging is not rocket science. It's about being yourself and putting what you have into it" – Anonymous.
Writing a blog can be one of the best ways to become a writer or become an online writer. Writing a blog for a freelance job can be the best decision for your future. Its positive effects are also visible quickly.
Another way for writings a blog is to generate some of the writing samples. Our expert suggests you some of the topics on which you can write your samples such as:
15 best yoga exercises that help you to get rid of belly fat.
5 writing tips for students who hate writing.
How to improve your reading skills?
These are some of the topics on which you can start writing, and then proceeds to become a good writer.
Grow as a Branded Writer: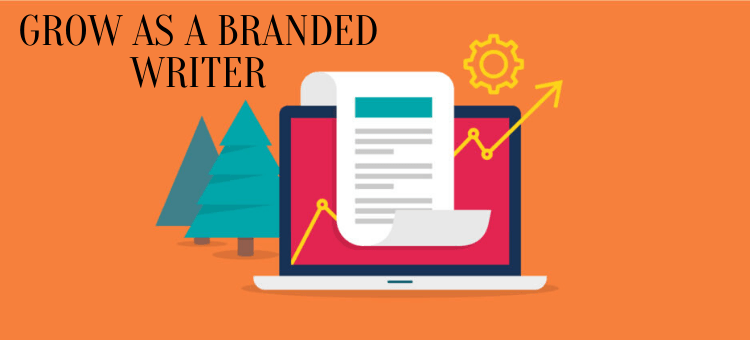 Writing doesn't mean that it should be alone, but it means to be spread out to the readers. Therefore you require to send all writings to some of the social media such as Facebook or Twitter. For this, you need to have a profile on these platforms, and if you have to explore all the freelance writing platform, then a LinkedIn profile can be helpful for you. It is also the best way to become an online writer or become a writer. In these ways, you can advertise yourself to different readers.
Enroll Yourself in Writing Courses:
There are several courses which are available online too for the persons who want to become a writer. One of the best online methods can be 'CopyHour.' This concentrates particularly on how to become a writer. It might take a different approach, but it works wonders for improving your writing skills.
Another method to improve your writing skills is that you can join any of the writing community. This is the place where you can have an honest review related to your writings, and they will also share their ideas regarding a particular topic. This does not only enhances your writing skills but also helps you to boost up your confidence in your writing.
Seek out Paid Writing Opportunities:
When you use any of the media, you can get feedback from the people from that media, but don't you think that it must be share to as much as peoples possible so that you can get some of the money from your writings.
If you want to earn some extra income or want to sell your writings to the persons who need some of the good writings either for their business or for some other purpose. Therefore, we suggest some of the paid opportunities; some of the methods are:
Use LinkedIn:- It is the same platform just as Facebook used for businesses. You can contact the other businesses to show your capabilities as a good writer.
Use job boards:- There are certain job boards that are available for online writers so that any good writer can connect them for writing jobs.
Go local:- Sometimes, the opportunities are within your area, but you are not able to reach them. So use your writings to help those who need a local writer.
There are also other ways to find a writing opportunity, but these might be the best one. You can also work as a freelance online writer; for this, you have to develop your skills as a good writer.
Submit your work:
This can be the last step for how to become a writer. For this, you can submit your writings to any of the publishers who can publish it as a novel or as an article. If you think that submitting your writings can be challenging for you, then you can publish your work on your own. For this, you can use any of the social media and post your writing so that anyone can read it for free of cost.
Conclusion
The steps, as mentioned above on how to become a writer, can be beneficial for you, therefore focus on these steps and practice all these steps. If you are looking for a platform where you can utilize your writing skills, then you can use our platform 'writool.com' which is the best freelance website, where you can submit your writings and work as a freelance online writer. Check all the details about freelance writing from our website to show your abilities as a good writer.